Today we announced the release of Family Office Key Performance Indicators (KPI) assessment methodology and online tool. The free report offers a personalized experience with detailed information about each firm's performance and allows it to move away from the subjective into the realm of the objective.
The report has two main components – reporting excellence and financial control – each with five different categories that make up a final score. Reporting excellence evaluates reporting efficiency and speed, accuracy, business insight, agility, and data presentation. Financial control looks at a firm's controls, costs, processes, governance, and people.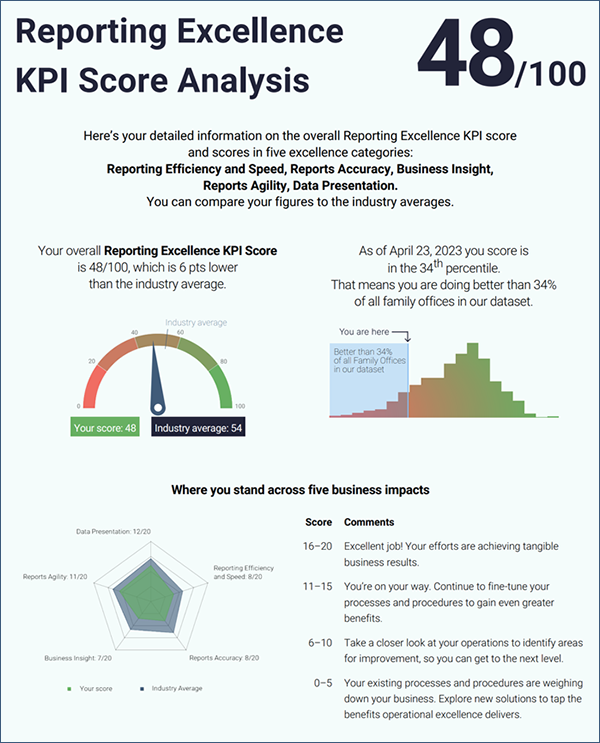 "Through our research, we've found that more than 80 percent of family offices don't have a KPI reporting system to measure the efficiency of their internal processes or the quality of support they provide," said Ashley Whittaker, President of Global Sales at FundCount. "Understanding KPIs, especially compared to industry benchmarks, is critical to the success of any family office and the delivery of effective family governance to both monitor investment performance and risk and deliver critical planning, such as around succession matters."
The KPI assessment benefits families and family offices by measuring the quality of their work and services. It serves as a tool to help them understand the areas in which their family offices perform well and the areas that need improvement relative to peers and industry best practices. The assessment takes only 15 minutes, and results are provided immediately. Comprised of 10 sections highlighting various business challenges, respondents are required to answer each question on a scale from one (slow/manual) to five (fast/fully automated).
The data is then anonymized and distilled into industry-wide benchmarks allowing family offices to compare against peers globally. The benchmarks are recalculated twice a year, so family offices and asset managers can track the objective numbers that demonstrate whether they are gaining or losing ground. In addition to assessing a firm's tools and business processes, the report offers an analysis of how to improve and reassess KPIs.
"We're excited to roll out this new service to our clients and those family offices thinking about upgrading their governance and systems to be fit for these times – especially as it provides both qualitative and quantitative measures, and the best part is it's a complimentary service. This program will be a game changer for those who take advantage," said Gavin Vieyra, Director of Client Success at FundCount. "We strive to continue providing our clients with valuable resources to help improve functionality and efficiency of their family office, and this program adds another layer to their overall success."
Free online tool allows family members, family office and asset management executives to benchmark the effectiveness and efficiency of their organization in critical areas of reporting, financial control, and operational excellence.
To complete the Family Office KPI assessment, visit kpi.fundcount.com.