Hedge Fund accounting software doesn't need to be complicated.
Get simplicity, efficiency and accuracy in one fully integrated accounting and reporting solution.
Spend more time investing and less time with manual operations.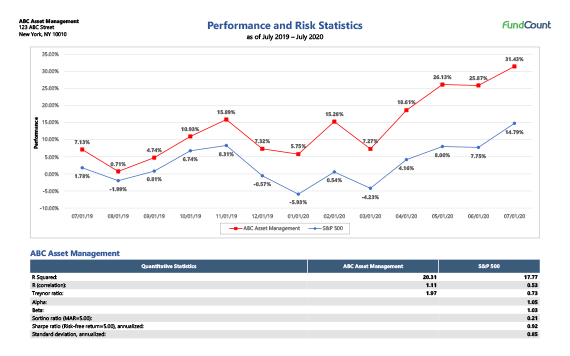 Accurate, consolidated information
Manage all your accounting and analytics for complex fees, legal entity structures and investment strategies on one comprehensive platform. All investor and portfolio accounting activity flows through a single integrated multicurrency general ledger, so you'll always have a complete and accurate picture of performance upon which to base your investment decisions.
Your investor relations teams will benefit as well. Integration provides real-time response capabilities and significantly speeds period-end close, tax, and audit cycle times.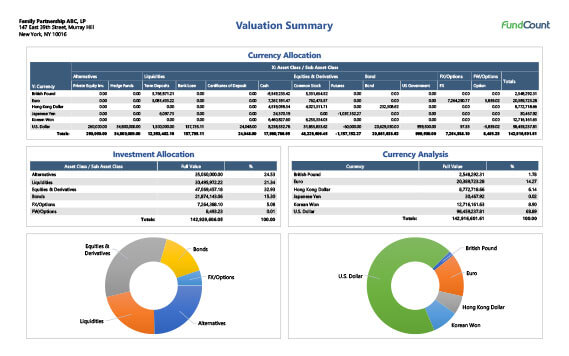 Comprehensive functionality
With accounting support for onshore and offshore funds and any security type – from equities and derivatives to currencies, swaps and fixed income – there's nothing holding you back with FundCount. You're never constrained by geography or asset class.
Strike NAVs by funds, classes, side pockets, partners and/or series
Automatically calculate management and investment fee structures across any number of partnership investment vehicles
Automate P&L and cash flows between entities in complex master-feeder structures
Fast and easy
reporting
From investors' demand for transparency to increased regulatory pressure, the ability to deliver accurate, timely reports has never been more important. Our robust reporting tools arm you with a wide spectrum of ready-to-use reports. Or, create a custom-tailored report from scratch – in minutes – right from your desktop. Then enrich your reports with powerful visual components that communicate complex details in a clear and easy-to-understand format.
Provide your investors with secure access to view live reports through tablets and phones or deliver reports online, via email or by regular mail.
Streamlined
efficiency
Save time with automated processes that take the pain out of aggregating and reconciling data from custodians, prime brokers and fund administrators. Increase productivity with automated fee accruals and expense calculations, and configure other processes to run automatically.
Gain further efficiencies while minimizing operational risk with our integrated workflow tools, which bring institutional-quality procedures to your back office.
Shadow with
confidence
Easily shadow your fund administrator with double-entry, multicurrency accounting based off our customizable chart of accounts.
Flexible performance
tracking
Custom functions enable you to use proprietary calculations and integrate your Excel data so you don't need to reinvent the wheel.
Case Studies
Hedge Fund
Automating for accurate shadow accounting
New York-Based Hedge Fund
"FundCount gives us more control and it helps us identify things that we otherwise would not have been able to identify."
Read Case Study
feature
Private Equity
Achieving meticulous accounting & reporting
MBG Capital
"FundCount has been instrumental in streamlining our back-office accounting processes and bringing a disciplined, auditable approach to accounting."
Read Case Study
feature
Fund Administration
Capitalizing on robust reporting
Beacon Fund Services
"FundCount's flexibility enables us to quickly and easily tailor standard reports to meet the needs of each client."
Read Case Study