Meet the need for transparency and client communications with our fund
accounting and integrated CRM solution.
FundCount supports the complex accounting and reporting requirements of private equity
funds with clarity, accuracy and efficiency.
One solution for all your needs
FundCount's private equity solution accounts for the entire fund lifecycle from fundraising and commitment to deal flow, final distribution and close. It supports a wide spectrum of private investment types, including direct company investments, real estate, co-investment funds or fixed income securities.
From automatically calculating management fees for multiple classes of investors to tracking and rebalancing profit splits between general and limited partners, FundCount offers full functionality to meet all your partnership accounting needs. Completely shadow your fund administrator to supply accurate information and reports to your shareholders at all times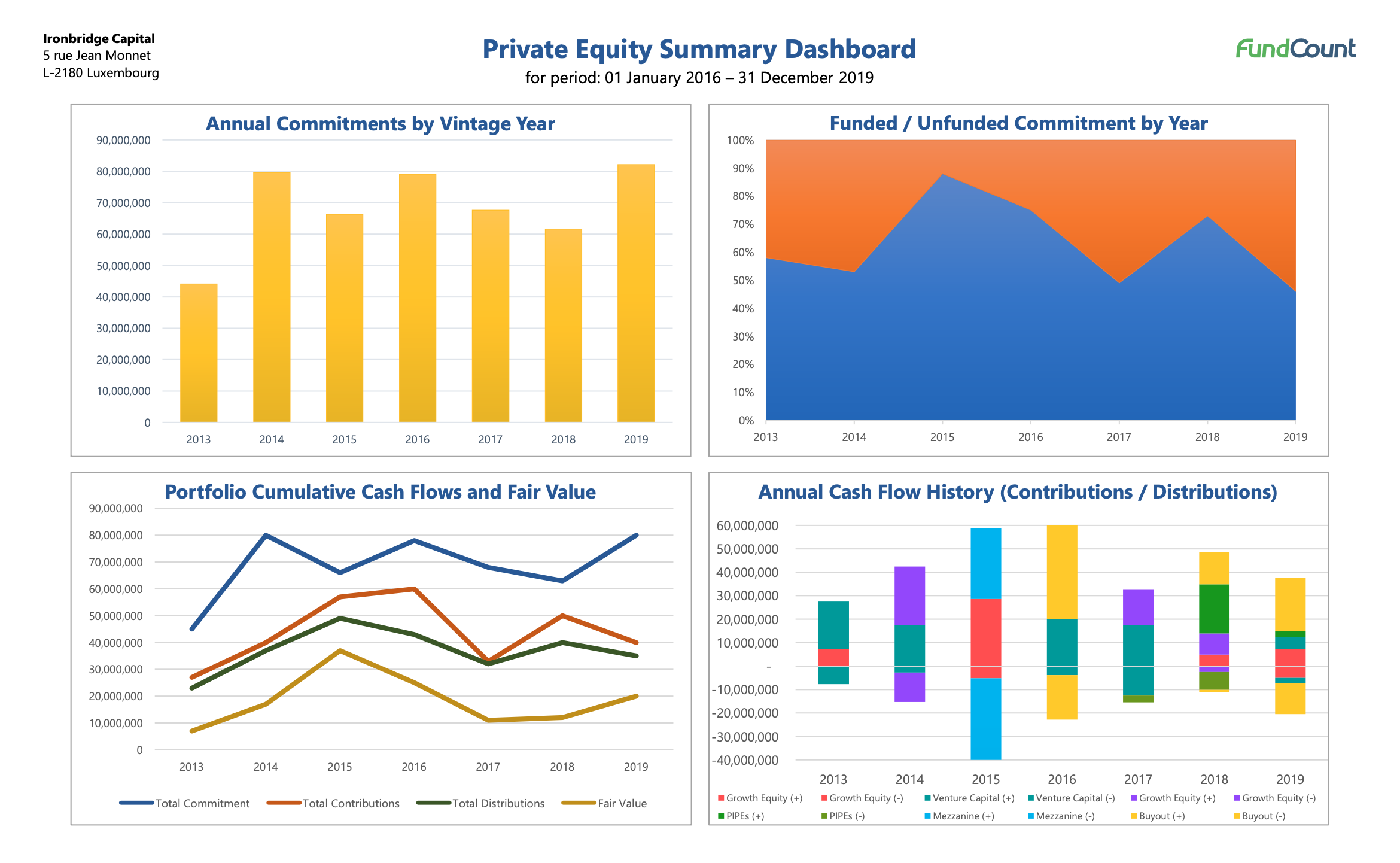 Sail through complexity
No financial metric is too esoteric for FundCount. Complex error-prone fee calculations, including waterfalls, performance measurements (e.g., IRR, TVPI, DPI, RVPI), capital calls and distributions are accurate and auditable.
Benefit from FundCount's extensive functionality for capital calls:
Calculate call allocations automatically
Exclude specific individual investors from any category
Automatically generate capital call letters and statements to each limited partner based on your custom template
Streamline workflow
Replace cumbersome spreadsheets and legacy email systems with purpose-built partnership and portfolio accounting software that ensures greater efficiency in managing the complex accounting requirements of private equity.
With FundCount, there's no need to manually enter information into separate systems. Data automatically flows from investment and investor transactions into our real-time general ledger where it is consolidated. Your information is always accurate and up-to-date. Even distribution of cash or assets to limited partners is recorded in a single step, for fast, easy processing.
Gain control with flexible reporting
Satisfy investors and regulators with clear and accurate reports, including all ILPA- recommended reports, cover letters, balance sheets, fee disclosures, schedule of investments, IRS K-1s and individual capital account statements.
Add custom categories, including customizable benchmarking, or establish repeatable templates for recurring use quickly and easily.
Stay ahead with CRM and LP online access
Investor relations and deal flow management teams can rely on FundCount's integrated CRM and FC Investor Portal to manage contacts and data seamlessly for end-to-end relationship building and fundraising.
The Investor Portal offers LPs a completely interactive online reporting interface across tablets, phone and web. A custom-branded website designed specifically for GP-LP communication needs serves as an information vault, providing access to a full range of reports and other documentation.
Case Studies
feature
Private Equity
Achieving meticulous accounting & reporting
MBG Capital
"FundCount has been instrumental in streamlining our back-office accounting processes and bringing a disciplined, auditable approach to accounting."
Read Case Study
Hedge Fund
Automating for accurate shadow accounting
New York-Based Hedge Fund
"FundCount gives us more control and it helps us identify things that we otherwise would not have been able to identify."
Read Case Study
Private Equity
Delivering customized client reports
Singapore-Based Private Equity Firm
"Reports are excellent and customizable. FundCount enables us to quickly run the relevant report or cater to any other client request."
Read Case Study