We are living in a revolutionary time when it comes to automation.  With the evolution of AI and Robotic Process Automation (RPA), work that formerly was dreaded can now be handled swiftly and accurately by computers, with no complaints.  Today's digital workforce can help free you and your staff from these less-than-desirable tasks with more accuracy and no human error. If you run a hedge fund or family office, today's automation tools can help your organization run far more efficiently and pleasantly than ever before.
Bring a New Kind of Life into Your Back Office
Back-office administration can make or break your organization, but it takes considerable cost and time to do it right.  And along with that comes headaches for you to ensure that everything is done accurately and compliantly.  
Fortunately, recent quantum leaps in automation have breathed new life into back offices.  But this time, it's digital life, where a virtual team of robotic workers can take over work formerly done by dedicated staff.  
While freeing team members to work on more value-creating tasks, it also offers the potential to slash your costs.  EY estimates that using AI and RPA to automate back-office work can save organizations from 20% to 60% in baseline full-time employee costs. That's not hard to imagine, given that a digital workforce can complete processes about 20 times faster than humans, according to Hannes Schneider of Bain & Company.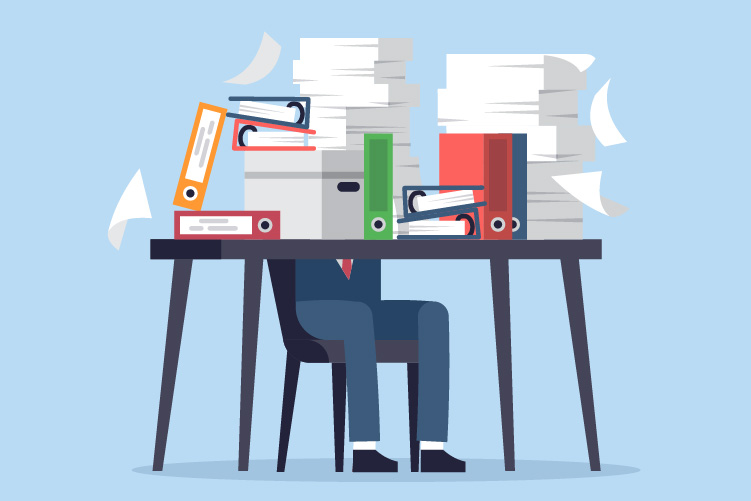 Meet Your New Digital Workforce
While it can seem like something out of a sci-fi movie, the reality is that the digital workforce is here today.  So the sooner you can get comfortable with the idea and move toward implementing it, the more your organization can benefit.
What Exactly is this Technology?
The technology is called Intelligent Automation and incorporates two components.  The first is RPA: Robotic Process Automation.  This is rules-based task execution software.  This is then combined with AI, or Artificial Intelligence, which incorporates cognitive capabilities such as natural language processing and fuzzy logic. Together these two technologies create a digital workforce that can take over processes and complete them exponentially faster…all without the risk of human error.
Of course, initial programming is required to set this all up. Intelligent automation first must learn what it needs to do, but once set up, you have a round-the-clock workforce that processes tasks formerly handled by human teams. This is a match made in heaven for the back office with its many repetitive tasks.
Three Examples of How these Tools Can Benefit You
How might you utilize these futuristic technologies in your back office functions?  Here are some actual use cases that are helping organizations today.  
Accounts Payable is not usually on anyone's favorite list.  It also can be an expensive cost center if much of the processing is done manually.  Data from the American Productivity & Quality Center estimate that companies with minimal automation may spend more than $10 per invoice in costs on A/P processing.
Instead of a human agent manually entering invoice details into software, seeking approval and processing payments, your new digital workforce can take over most of the process.  Instead of error-prone manual entry, the digital crew will automatically extract invoice data and match it with purchase orders and proof of delivery receipts.  Once approved, invoices can be posted by the digital bots and are ready for automated payment processing.  
Accounts Receivable is another area ripe for disruption by automation.  A/R is critical to keep the doors open, but it is often plagued with time-consuming manual tasks.  One survey on automation in finance back offices showed that A/R was the least automated function for many companies.   
Anything done manually or requiring data entry is prone to human error.  Your virtual workforce can help by automating order processing, fulfillment, invoicing and cash allocation.  Speeding up this entire process has the additional benefit of improving your cash flow.  
Human Resources Administration
In today's world, keeping your team happy is critical.  Younger workers expect companies to offer them more, and tight labor markets potentially make staff turnover prohibitively expensive.  So why not let today's digital workforce handle your HR processing, so your team can focus on new initiatives to keep your employees happy? 
Repetitive onboarding tasks such as filling out forms, adding new team members to databases and sending out notifications can easily be handled by bots.  Then, ongoing employee data management can also be automated, saving you and your team from these mundane but necessary processes.
Why AI is Different from Other Technology Solutions
For those who have not directly experienced AI, you might wonder why this differs from past advancements to new and better software platforms.  This is very different because you don't have immense cost, hassle and interruption to migrate to a new system.  Instead, you train the digital workforce on your existing system.  This makes the transition much easier.
Then, with a digital workforce, you're not just getting automation. You're getting automation that can learn and improve itself over time.  
Key Takeaway
The bottom line? We are only collectively scratching the surface of the true potential of this futuristic technology. Early adopters may be experiencing a steep learning curve, but many are already reaping massive benefits from these tools. At Fund Count, we're helping our clients harness this technology so you don't have to wait to begin experiencing its immense benefits.